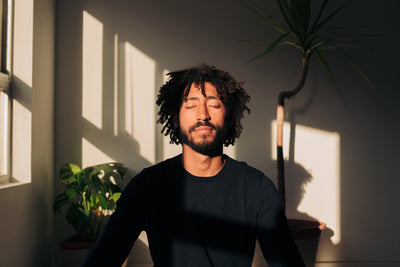 Feeling Anxious?
Aren't we all!? Anxiety and stress is the prime condition of the modern world. Stress and worry are normal parts of everyday life, but that doesn't mean you have to sit back and accept them when they feel out of control. Having unmanaged anxiety and stress complicates even the simplest moments, and when these negative feelings overwhelm, they can wreak havoc on your mental, emotional, and physical health.
The body under stress
Ongoing negative stress can promote chronic inflammation inside of your body, which increases your risk for a number of chronic diseases*. Stress increases cortisol levels, a stress hormone circulating in your body. High cortisol levels over time can disrupt sleep, promote unwanted weight gain, impair your immune response, and cause brain fog. That's why it's so important to practice stress-reducing habits like regular physical activity, eating a healthy diet, and prioritizing your sleep.*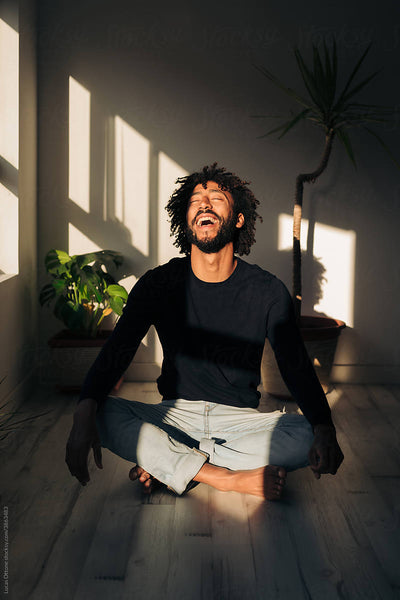 No Worries™, you got this!
Nothing is quite as soothing as a warm cup of tea, but we thought we could do even more with plant medicine. No Worries™ is a plant infusion of Ayurvedic herbs boosted with traditional Chinese medicine, designed to help move your body and mind to a comforted state of calm. It contains functional botanicals blended with proprietary Rxtracts™ that have an established record of health-promoting uses.*
The formula to chill
No Worries™ starts with caffeine-free Rooibos tea and adds the traditional Chinese medicine ingredients of Jujube seed, Mother of Pearl powder, Shi Chang Pu root and Poria mushrooms to help calm the mind, alleviate mental tension, and reduce inflammation. The Indian Ayruvedic adaptogens of Ashwagandha and Holy Basil help the body adapt to stressors and reduce the negative effects of anxiety. Rounding out our unique formulation are Lemon Balm, Skullcap, Linden flowers and Passionflower, all supporting a sense of ease. You don't have to accept ongoing stress as a normal part of your life. Enjoy a cup of No Worries™ as part of your regular wellness routine and notice the feeling of immediate relaxation.*
Relaxation is a stepping stone to tranquility.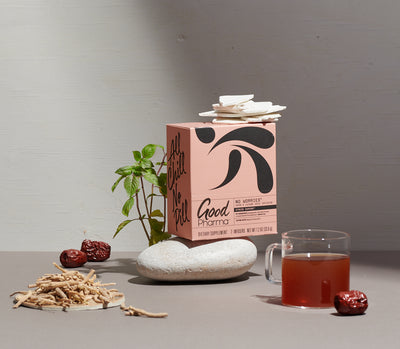 Helps me unwind!
"I drink this herbal tea to help me combat my daily stress. I love the taste and it really works. I often enjoy this late in the afternoon and then have my Rest Assured before i go to sleep. The two work amazingly well together"
—Susan S.
March 2022
Rooibos

Rooibos is a South African native tree that grows in a bush form and has a long history of use not only as a tea for enjoyment, but for its health benefits, too. Rooibos leaf is rich in antioxidants and is thought to promote cardiovascular health.
Lemon Balm

Known to alleviate stress, the lemon-scented Lemon Balm, has also been researched to show that it can enhance cognitive performance while helping with mood and sleep.
Skullcap

Long have the leaves and stems of Skullcap been used for helping manage stress, and anxiety, and improve sleep, through its ability to target specific neurotransmitters and receptors in the brain. 
Holy Basil

Best known for calming and reducing stress, Holy Basil has been used in Ayurvedic medicine for centuries. In clinical trials, Holy Basil has been shown to lower cortisol levels and promote a healthy mood. 
Linden Blossom

Linden blossoms have a long and rich tradition in Western herbalism for lending soothing and relaxing benefits when consumed in a tea.
Passionflower

Passionflower is a powerful, non-addictive sleep aid that is used to treat ailments such as insomnia and anxiety due to the calming and sleep-inducing effects of the plants' natural chemicals. 
Ashwagandha

Ashwagandha is one of the most integral herbs of Ayurvedic Medicine for its stress reduction support. This powerful herb is known to promote calm and relaxation.
Poria Mushroom

Poria Mushroom is an adaptogenic mushroom that supports a balanced mood and relaxation. The filaments, threads in which food material is stored, are used for medicine.
Codonopsis Root

Codonopsis supports the immune system and is a powerful antioxidant.
Mother of Pearl

Mother of Pearl is used as a relaxant, anti-inflammatory & detoxifying agent in Traditional Chinese medicine. This could be in part because of the magnesium it contains. Magnesium supports elevation of gamma aminobutyric acid (GABA) levels, which may help alleviate depression, anxiety, and certain sleep disorders.
Shi Chang Pu

Shi Chang Pu Root in Traditional Chinese Medicine may be used to refresh the mind and calm the heart. It is also known to have anti-inflammatory properties. 
Jujube Seed

Studies have even shown that Jujube Seed has the ability to protect the brain from oxidative damage, improve sleep, and even support learning and memory function. It is also considered an antioxidant-rich herb that calms the mind and helps alleviate mental tension. 
Polygala Root

Polygala Root in Traditional Chinese Medicine is known to promote improved memory as well as spatial awareness and organization.